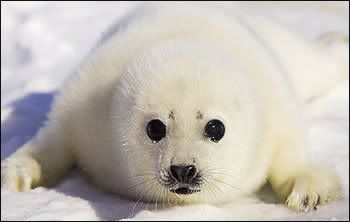 Perhaps
polar bears
aren't cuddly enough to pull our old heart strings; we should throw some baby seals into the mix for good measure. Now we see that the World Wrestling Federation is warning us of the imminent doom for 1500 baby seals; can't wait to see if that actually transpires....NOT!
(Yes, readers, I know that WWF doesn't stand for the ol' wrestling federation, but I couldn't resist the stab.)
AFP: Seal cubs threatened by global warming, WWF warns:
HAMBURG, Germany (AFP) — Hundreds of newborn seal cubs risk dying of hunger and cold because global warming is making ice in the Arctic Circle melt too fast, the World Wide Fund for Nature in Germany warned Monday.

"In some parts perhaps not a single one of the seal cubs born in the past few weeks will survive," the WWF said in a statement.

It said hundreds of the roughly 1,500 ringed seal cubs born this month and last month were in danger.
Meanwhile, on the same day of news:
Newsvine - Ohio Digs Out of Record Snowfall
:
COLUMBUS — Highway and utility crews cleared major highways in time for Monday morning commuters following the snowstorm that buried parts of Ohio in as much as 20 inches of snow during the weekend.