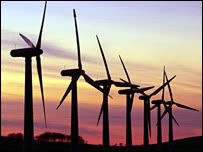 Loss of wind causes Texas power grid emergency| U.S.| Reuters:
HOUSTON (Reuters) - A drop in wind generation late on Tuesday, coupled with colder weather, triggered an electric emergency that caused the Texas grid operator to cut service to some large customers, the grid agency said on Wednesday.
What's interesting about this? Cold weather and a lack of wind kills TX wind energy farms, which are supposed to provide alternative energy to fossil fuels, because they help feed global warming. Does anyone else see the irony here?