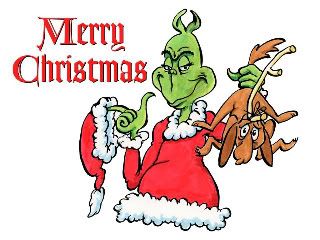 Just in time for Christmas, the alarmist humbugs strike with a vengeance, lambasting carbon fuel used to power all those wonderful holiday lights. They never say global warming in the article, so you need to read between the lines: Carbon fuel burned equals CO2, which is the oft-implicated gas of global warming. More GASP! here and see Dr. Brignell's warmlist to read about everything that global warming 'causes.'
As alarmist scientists and their cohorts in the media continue blowing hot air (which they wouldn't do if they really cared about carbon emissions...ahem), Amtrak passengers were at the mercy of this awful winter weather we're having.
And in a flash to the recent past, remember when scientists told us that computing and our LCD monitors were also warming the planet? Let's face it...if we do everything these zealots want us to do, we'll all be living in the Stone Age again. WAKE UP AMERICA!!
Scientists warn Christmas lights harm the planet | The Courier-Mail:
SCIENTISTS have warned that Christmas lights are bad for the planet due to huge electricity waste and urged people to get energy efficient festive bulbs.

CSIRO researchers said householders should know that each bulb turned on in the name of Christmas will increase emissions of greenhouse gases.
Amtrak Troubles: Passengers Stranded For 23 Hours - cbs2chicago.com
:
Others were delayed for hours. The worst case – more than 600 passengers trying to get to the Pacific Northwest were stuck on the train and in cold waiting rooms for nearly a day. Some said they had little food and water.

"We kept getting updated notifications that the toilets were frozen, the switching lines were frozen," a passenger said. "No one really knew what was going on."

The train finally left Tuesday afternoon – 23 hours late – but would only go as far as St. Paul, Minnesota.