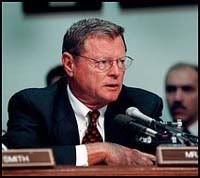 I can only say GO SENATOR INHOFE!!! Thanks goodness for you...you may be the only thinking politician in Washington when it comes to 'manmade global warming.'
"I proudly declare 2009 as the 'Year of the Skeptic,' the year in which scientists who question the so-called global warming consensus are being heard," Inhofe said to Boxer in a Senate speech. "Until this year, any scientist, reporter or politician who dared raise even the slightest suspicion about the science behind global warming was dismissed and repeatedly mocked."

Inhofe added: "Today I have been vindicated."

The Ada (Oklahoma) Evening News quotes Inhofe: "So when Barbara Boxer, John Kerry and all the left get up there and say, 'Yes. We're going to pass a global warming bill,' I will be able to stand up and say, 'No, it's over. Get a life. You lost. I won,'" Inhofe said.