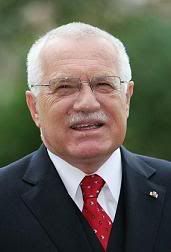 Our good friend and future EU president, Vaclav Klaus, is back in the news (being predictably eviscerated by the NYT for his disbelief in global warming bullcrap).
One great thing could come from this economic downturn: The death of climate alarmism and global warming belief in a vast majority of the world's citizens (we've already seen it happen here and in the UK).
I say, "Adios!"
Beware the church of climate alarm - Miranda Devine - Opinion - smh.com.au:
As the Czech President, Vaclav Klaus, an economist, anti-totalitarian and climate change sceptic, prepares to take up the rotating presidency of the European Union next year, climate alarmists are doing their best to traduce him.

The New York Times opened a profile of Klaus, 67, this week with a quote from a 1980s communist secret agent's report, claiming he behaves like a "rejected genius", and asserts there is "palpable fear" he will "embarrass" the EU.

But the real fear driving climate alarmists wild is that a more rational approach to the fundamentalist religion of global warming may be in the ascendancy - whether in the parliamentary offices of the world's largest trading bloc or in the living rooms of Blacktown.

As the global financial crisis takes hold, perhaps people are starting to wonder whether the so-called precautionary principle, which would have us accept enormous new taxes in the guise of an emissions trading scheme and curtail economic growth, is justified, based on what we actually know about climate.

One of Australia's leading enviro-sceptics, the geologist and University of Adelaide professor Ian Plimer, 62, says he has noticed audiences becoming more receptive to his message that climate change has always occurred and there is nothing we can do to stop it.